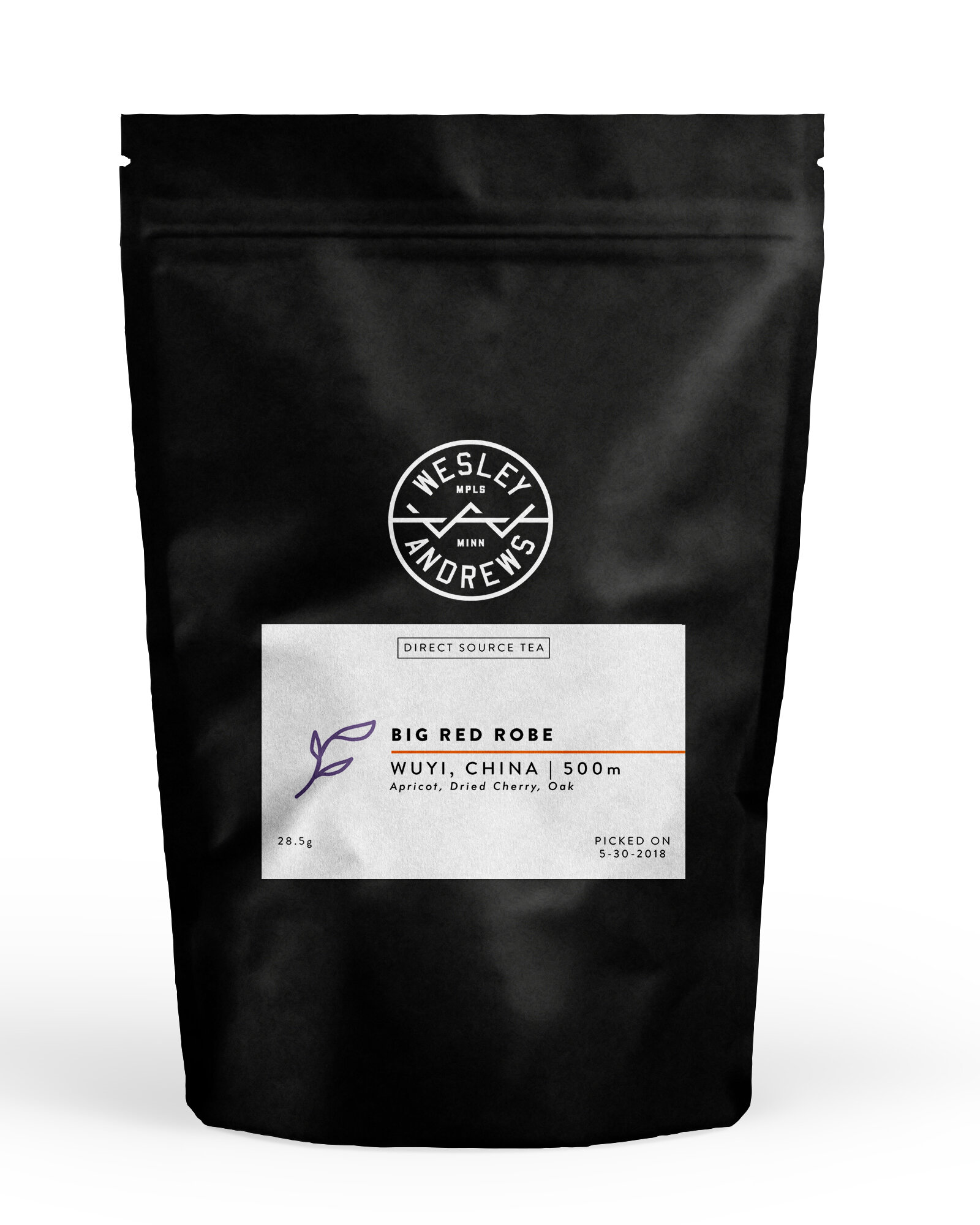 WuYi Big Red Robe Oolong
The Wu family is one of 10 families certified in traditional coal fired, hand processing. From the plains of Wuyi Mountain, this tea is a beautiful example of a traditional rock tea. Highly fragrant with a medium body, it has a transitional flavor that progresses over multiple steepings. Apricot, dried cherry, and oak create a vibrant and complex palate.
DETAILS
Region: Wuyi Shan, Fujian, China
Process: Coal Multi-Fired Oolong
Variety: Da Hong Pao
Elevation: 500M
Producer: Bei Yan Cha Chang
Picking: May 20-30, 2018
BREWING INSTRUCTIONS
Heat water kettle to 205°F
Place 5 Grams of tea in your Gaiwan
Fill Gaiwan 3/4 with water (5-6oz) and cover with lid
Let steep for 10 seconds, progressively extending brew time
Strain tea into cups or decanter
Repeat until the flavor fades (≈21 Steeps)
All of the information below is expressed in an effort to share with you the impact that our coffee has on the communities and countries around us. The total costs associated in purchasing and roasting green coffee become so detailed and specific that it can become unclear. We want to share with you how the specialty coffee community can benefit the farmers we work with. We have included both our total cost (including importing and receiving the coffee at our Roaster) and our shipping cost, in an effort to shed light on that impact.
Commodity Price: $2.29/kg
Fair Trade Minimum Price: $3.39/kg
Total Purchase Price: $238.80/kg
Amount purchased: 8 Kilograms
Estimated Shipping: $10.90/kg
Bei Yan Cha Chang has spent the last 6 generations developing its tea, becoming renown across China. The Wu family, due to their dedication to traditional processes, and attentive cultivation, has earned 1 of 10 certifications for the true, traditionally processed rock tea. When the Wu family was asked to move off their land on Wuyi Mountain (in the 90's), they were given a plot of land closer to the city. Keeping domain over their precious tea lots, they travel to the mountain almost every day to care for, test, and harvest their tea. Being a good friend of my Shifu, the family welcomed me with open arms during my first visit. After exploring the mountain and tasting tea all day, we decided we wanted to find a way to share these unique teas back in America. We are very excited to be partnering with such a kind family, and masterful tea producers!
*All pricing information above is in reference to the time of purchase