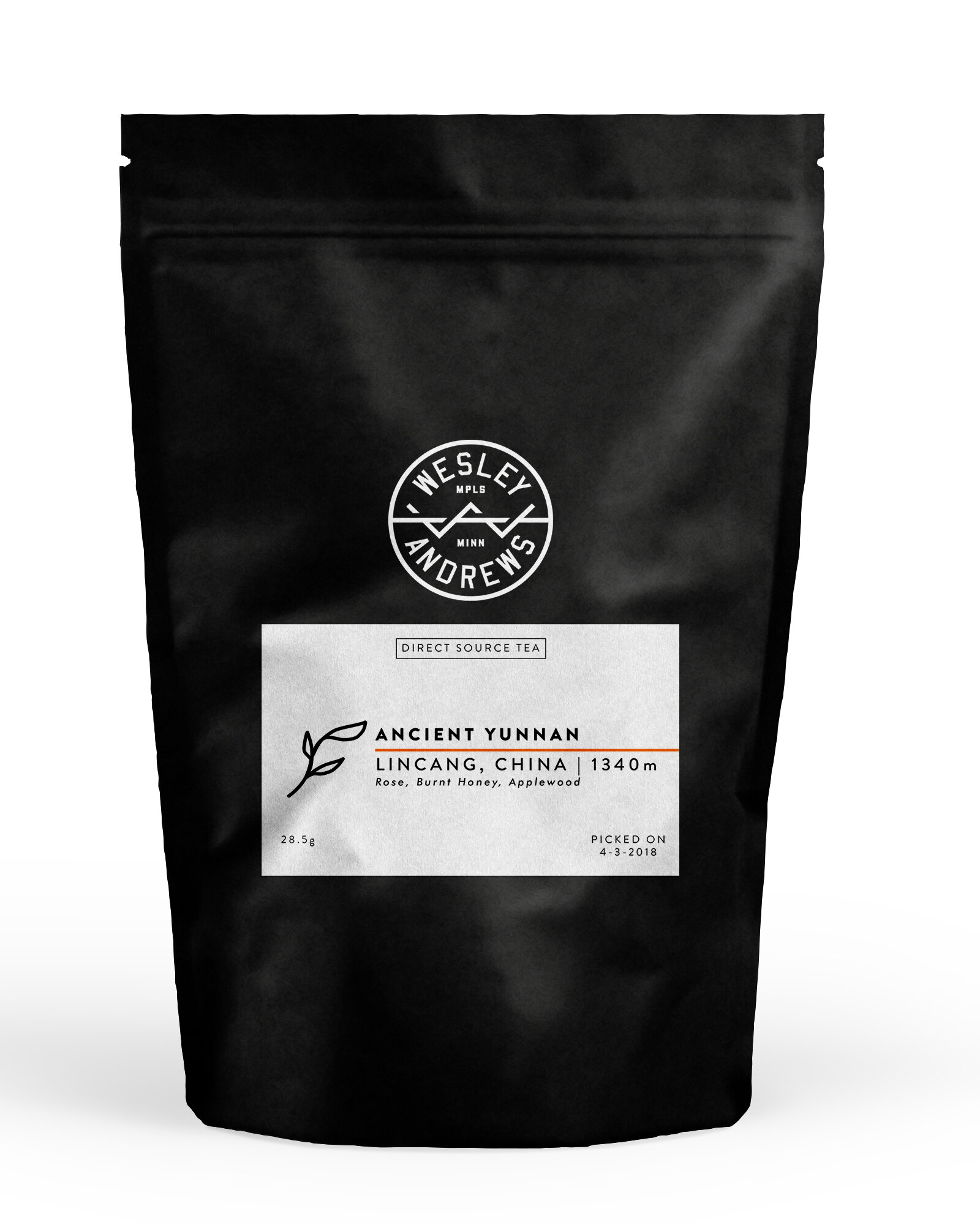 Ancient Yunnan Black
Coming from a an ancient garden within Lincang, Yunnan, this large-leaf black tea was Master Xiao Guang's first attempt at a tea of this kind. Teas of this age and region are almost exclusively made into Puer tea. The old trees and large leafs are packed with Polyphenols, which explode into complex flavors as they are broken down by roasting or aging. The expert sun-dry and roast on this tea gives us notes of Rose, Burnt Honey, and Applewood. This tea is delicious over many consecutive steepings, and will get better with age!
DETAILS
Region: Mehku Town, Lincang, Yunnan
Process: Sun Dried Black Tea
Variety: Da Yezi, Ancient Heirloom
Tree Age: ≈386 Years
Elevation: 1340M
Producer: Xiao Guang
Picking: April 3-11, 2018
BREWING INSTRUCTIONS
Heat water kettle to 205°F
Place 5 Grams of tea in your Gaiwan
Fill Gaiwan 3/4 with water (5-6oz) and cover with lid
Let steep for 10 seconds, progressively extending brew time
Strain tea into cups or decanter
Repeat until the flavor fades (≈16 Steeps)
Commodity Price: $2.29/kg
Fair Trade Minimum Price: $3.39/kg
Total Purchase Price: $238.80/kg
Amount purchased: 2 Kilograms
Estimated Shipping: $10.00/kg
When a friend wanted to connect us with a tea processor in Pu'erh, I didn't really know what to expect. That evening, I found myself walking down an alley (seemingly to a dead end) while someone I just met was beckoning "It's just a little farther". A moment later, we turned a corner and a saw a quaint little tea shop. Sitting down for some conversation, we tasted through several of the teas Master Xiao Guang either purchased or produced himself. Learning about the small community centered around their shop was enjoyable, but none of the teas quite stuck out to me, until he pulled out the Ancient Yunnan. Immediately, the flavor stuck out as unique and of a masterful quality. I asked him about it, and he said that it was his first time making a black tea out of these Pu'erh leaves, and he specifically wanted to make it so his friend in Germany would enjoy. Well, the rest is history!
*All pricing information above is in reference to the time of purchase